Originally conceived as a modular tool for performances, sister0's bag can serve many different uses. Using open source software and providing a documentation of design and technological specificities is a crucial and deliberate aspect in sister0's work. As an artist and a designer she forges the raw materials of her art to fit more than just the work of art itself. Basic research, appropriation of electronic consumer goods and applied technological design constitutes a work of art that consequently questions the apparatus of production and opens a range of unknown possibilities for others to employ and extend upon. Instead of creating yet another black box that just blinks, sounds or does something funny, sister0 provides a literally open bag full of possibilities.

The bag can also serve as personal recording device to capture one's daily life, to record conversations, log geographical data, and take images. Or it can even be used as a tactical medium in urban space, this is not symbolic. Imagine the bag as a tool for grassroot journalists operating under the conditions of repression. They can record images and audio files, and send them immediately to a remote server, while deleting the compromising data from the bag's memory. Once the server received files from the bag, the files on the bag are deleted automatically.

The flaneur roaming the city to collect impressions for personal memory is now equipped with a tool for sharing them in realtime. Random trainspotters, information gatherers, and media activists alike can inconspicuously record events, and collect evidences. The Bag Lady project anticipates a media practice of perpetual recording and sending.

The Bag Lady (project web site).
Date August 2008 Category News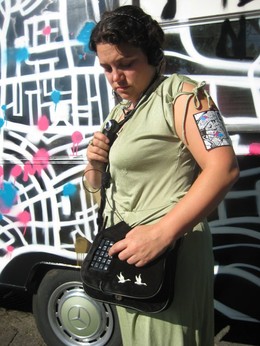 An often recurring motif in many films and stories is a character carrying a bag or a suitcase whose content is rather mysterious, unknown or of shady nature as purloined information, stolen goods or pornography. Inspired by these underworld milieu characters, Nancy Mauro-Flude aka sister0 conceived the performance "Bag Lady 2.0", for which she designed a bag, that is able to record, store and broadcast information in real time. Images can be taken with a camera attached to the bag, a microphone records sounds, even a GPS device can apply geographical data to identify the geographical location of the recorded sites. The functions of the bag can be controlled through a small keyboard attached to the bag. Equipped with that bag sister0 roams through urban spaces to collect images and impressions, that are then transmitted through open WLANs to a server. The bag is not only an item for collecting, but also for broadcasting gathered information in realtime.