The three projects were completely different concerning research question, scope and methods. While the Gemeente Utrecht asked for an analysis of debates and publics dealing with Utrecht on Twitter, the temp agency Timing asked for a market analysis and the Institute Rathenau was interested in an impact assessment of data visualizations.

The case for Gemeente Utrecht required a thorough analysis of various Twitter samples, the Timing case employed a mixed method of expert interviews and quantitative data analysis, and the Rathenau project exploratively investigated best and worst practices of data visualization and used an example case to illustrate the construction of a visualization. Our technology partner Buzzcapture supported the teams in their research efforts.

The three teams will present their results on November 5th in a small symposium and discuss practices of data research in new media studies. We are looking forward to a lively discussion with our partner organizations and fellow students of new media, data aficionados and digital methods practitioners.
Utrecht Data School Symposium
Tuesday, 5 November 2013
Drift 21, room 0.05

In order to attend you must register by sending an e-mail to Ellen [at] dataschool [dot] nl
(working langauge will be Dutch)
Date October 2013 Category News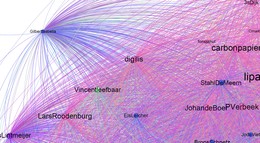 The second edition of the Utrecht Data School has been working hard to analyse data related to three external partners and their research questions: Gemeente Utrecht, Timing and Instituut Rathenau. The results will be presented in a symposium on November 5th.