Wikipedia between emancipation and self-regulation
Interview with Jeanette Hofmann (by Bas Bergervoet and Marijke Tiemensma)
See the video at Vimeo
Wikipedia as Battleground

Interview with Athina Karatzogianni (by Samuel Zwaan)

Dr. Athina Karatzogianni is a lecturer in Media, Culture and Society at the University of Hull. Although Karatzogianni has published several books regarding subjects like cyberconflict, global politics and powerstructures, she states at the beginning of her presentation Wikipedia was a rather undiscovered domain for her. Nevertheless Karatzogianni is able to use her expertise to analyze Wikipedia and state that Wikipedia and similar endeavors, provide a battleground for dominance in our global political consciousness. This battleground has internal conflicts, competitors within the open software movement and external others in the overall business of knowledge. Wikipedia's content is not radical, it is the actual process, which is radical.

Samuel Zwaan was able to have a short interview with Dr. Athina Karatzogianni and tried to find out more about her view on governments and their use of information and communication technology.

Samuel Zwaan: Today it is very common that governments use information and communication technologies like the internet. Governments refer to themselves as E-government and use buzzwords like eParticipation.What is your view on these developments and this promise of participation?

Athina Karatzogianni: One of the problems is that within the public management discourse the citizens aren't really being seen as citizens. Citizens are in fact seen as customers. So the first problem of e-government is that the citizen is not being seen as a citizen. It means that the public should not just be offered services, but that they should have the opportunity to participate full blown. It should be possible to chat and have discussions directly, not just be able to fill in another tax form and say this is e-government. So how can we make it interactive so that citizens feel like citizens in a democracy?

SZ: Do you think governments could learn from 'open source' initiatives like Wikipedia? For instance in a way that people can actively adjust and add to government proposals?

AK: I think that governments can learn from everything that is going on in cyberspace at the moment. It is a school for the new generation, for people in their 20's 30's. But we are talking now about the First World, the advanced world. Not in every country it is possible to access the internet and learn from different open source projects, but they are getting there. So if you are thinking about e-government you are talking about the advanced countries. What these governments should be doing is exploring every possibility that is accessible online, because that means that they can get people to participate. If you look at the Obama campaign, if you look at how he used social networking he used a variety of options. It is better to have a thousand people Blogging for you then have one million people talking like we are doing now. Because the Bloggers are going to find another thousand people and another thousand, the whole thing multiplies. So governments have to become very dynamic, they need to have a very dynamic online presence.

SZ: This sounds very much like a salestalk from the government. Governments trying to get votes via social networking, exploiting the people, propaganda…

AK: But they do that anyway. The way you posed the question is: "what do governments do"? Now, in my opinion governments and states are slowly becoming obsolete. But if you are asking what they can do to survive… Maybe that is a better question: "what can they do to survive"? They have to exploit the population and younger people who know how to manipulate these technologies, that is the only way to do it and this is this way that it has been done for years. These people with creative talents will move the world forward. But the question is does the state survive or doesn't it, does that even matter anymore? It depends on what claims are being made by the states. If a state is democratic it should be engaging the citizen as a citizen and not as a customer. If it is totalitarian it will use technologies against its citizens. In the UK, technology is used in extreme surveillance operations, expressive of a neo-totalitarian state and the new Digital Economy Bill targets individuals for digital piracy in a way that will prove very difficult to enforce reasonably. So it all depends on where you are…

SZ: So it seems you are pretty critical on the notion of e-government because it seems more like surviving than innovating…

AK: If they were innovating they would actually engage in open source initiatives, engage full blown. But that means they lose their hierarchies and lose their power. The discussion is actually more fundamental than just the governments trying to survive, the whole system is in flux.
Date April 2010 Category News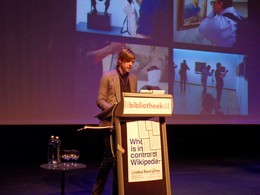 Hosted by the Institute for Network Cultures a conference focused on Wikipedia from a critical point of view. Core issues were the politics behind the collective encyclopaedia, the processes of collaboration, the unfolding power structures and the creation of knowledge. A group of students affiliated with Utrecht's New Media and Digital Culture covered talks and interviewed speakers.
Report on the conference Wikipedia. A Critical Point of View (pdf; in Dutch)
Conference summary, resources and videos at the Institute for Network Cultures