The contributions analyze YouTube as a media practice and cultural form, and discuss it's possible implications on media industries. Furthermore the volume discusses archival aspects of YouTube. The growing online repositories affect our understanding of archiving, storing and distributing data. In our contribution to the YouTube Reader Frank Kessler and I, point out to what extent users contribute to the information management system. Their impact on the retrieval of videos ranges from the number of generated views, ratings and comments to added meta-information. We acknowledge those user activities as crucial for YouTube to function: The uploaded material has described, indexed and categorized in various ways in order to be storable, identifiable, retrievable and thus viewable. While many of these activities vaguely resemble traditional archival storage, YouTube is fundamentally different in the explicit and implicit participation of its users. YouTube can not be called an archive, rather a repository, or more appropriately, an infrastructure for uploading, viewing and commenting video clips. But the way users generate different metadata through their various activities, and thereby structure the database and determine the retrieval of files constitutes a new media practice that represents a challenge to our established conceptions of media use.

Expanding the book, film curator Giovanna Fossati (Netherlands Film Museum) curated an online exhibition with 100 selected YouTube clips. www.youtubereader.com

The YouTube Reader edited by Pelle Snickars and Patrick Vonderau is available at Wallflower Press, or Amazon.

Read our article "Navigating YouTube: Constituting a Hybrid Information Management System" (Frank Kessler and Mirko Tobias Schaefer)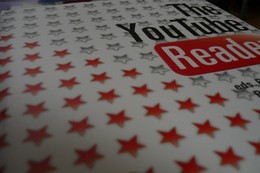 YouTube made a profound impact on digital culture owing to its vast number of users, and enormous and continuous repository of on-demand-video. Commentators praised it as democratizing media use, facilitating the revolution that turns the user into the producer and changes everything, or condemned it for the same or many other reasons. The popular discourse has often simultaneously overestimated and underestimated YouTube in the many often hasty and superficial statements. Few attempts have been made so far to approach YouTube critically and analytically. A first collection of articles has been provided by Geert Lovink and Sabine Niederer in their 2008 publication Video Vortext Reader: Responses to YouTube.

With the recently published YouTube Reader, edited by Pelle Snickars and Patrick Vonderau, a comprehensive book is available that attempts to go beyond mere description to theorize an emerging media phenomenon from different perspectives. The entire book is available as free download (.pdf).